The Roof lantern is a unique skylight that fits perfectly with my home; I find that this skylight offers many benefits to my home. One of the benefits of this type of roof is the low maintenance aspect. I like anything that basically takes care of itself. The roof lantern is beautiful and efficient. It allows the heat and light from the sun into my home. This makes the roof more efficient for my home than the traditional style roofs. What more could you ask for from your roof than for it to be low maintenance, beautiful and efficient?
People know roof lanterns for their high performance in homes and businesses. These roofs are glazed and sealed with insulated glass to reduce energy loss and prevent water leakage into your home. Builders build them with both wood and aluminum. I wanted these features when I chose my roof lantern. I needed a roof with the ability to keep my home well-lit and warm to save me money. The roof lantern did exactly that for my home. This roof gave me light in the darker areas of my house, and it highlighted things in my home with bright natural light, but without the cost of using electricity.
At one point we only saw skylights on certain kinds of buildings like greenhouses or conservatories, but now they are more affordable and we see them on more homes and business than ever. I see them used in a lot of different homes and businesses; I even see them used in pool houses. Some people put them over one room of their home to give them extra light for that area. Other people have them installed to give their homes a pleasing architectural look.
The modern roof lanterns today are more durable than years past. They use a double glaze technique and advanced sealing materials now, which helps to prevent leakage during a rain shower. Before this new and advanced technology, the roofs had a tendency to leak. Thanks to technology, we can now enjoy our new roof lantern without the worry of leakage when it rains. Also, my home stays warmer because of this double glazed and sealed technique. I am so happy to know that the technology of today has made the roof lantern what it is now, so we can enjoy all the benefits it has to offer.
The installation of my roof lantern was an experience within itself. First I had to find someone with experience with this kind of work, preferably with experience working on roof lanterns of all shapes and sizes. I found a competent builder who I could trust and rely on to install my roof exactly how I wanted it. We decided on the style of my roof and where it would go. Then, the builder set out to prepare my existing roof for the new roof lantern. He had to create an aperture and an area for the roof to sit on; he called this an upstand or kerb. The builder then made sure that everything was done correctly. He suggested using the white aluminum glazing capping since this offered a neat moulded section for maintenance-free performance. He said I could also go with the traditional glazing capping which is painted. However, it requires some maintenance. Since I like things to be easy and maintenance-free, I chose the white aluminum style. Then we had to decide if I needed my roof ventilated. Ventilation for a roof lantern is necessary if the roof covers certain rooms like the kitchen, where a lot of heat is produced. Since my kitchen was the main area I wanted this new roof lantern to cover, I needed this ventilation.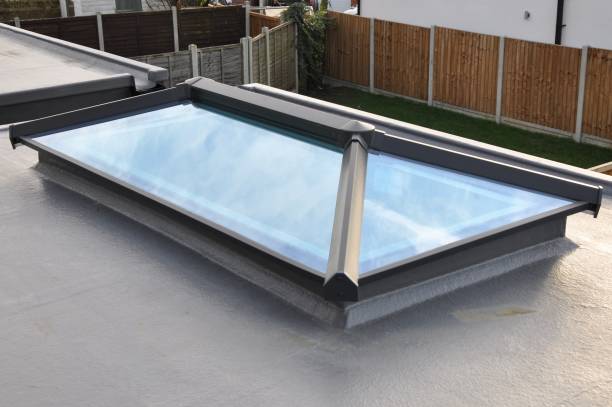 The installation of the roof lantern transformed my property. It gave me the light and character my home needed. My property became a thing of beauty. My roof lantern created the dramatic look I desired for my home. My hallways and kitchen had enough light to make them look and feel bigger. This roof was one of the easiest roofs I've had installed. It came at an affordable price too. No other roof can be designed to the owner's specifications like this one can. I was able to tell the builder exactly what I wanted my roof to look like and what I wanted it to accomplish as far as lighting, and he made it happen. I told him I really wanted a lot of light for my kitchen and dining area. I love the way the light from my new roof shines over my dining room table, especially when the family is sitting around the table. I also really love it when I fix meals in my brightly lit kitchen. The food is easier to prepare when you have enough light to see what you are doing.
If you decide that you want to transform your house, you might want to consider changing your roof style to a roof lantern. The roof lantern design has made a big difference in my home, and I am glad that I took the first step and spoke with that builder. Now I get to sit back and enjoy the ambiance of my new roof. I get to feel and see the sunlight streaming in. I can enjoy watching the rain drops, but know my roof is watertight. All this is possible because I chose a competent and reliable builder that knew what he was doing. By choosing the most durable and maintenance-free materials for my roof, I can enjoy it for years to come without worrying about repairing it. My home is more valuable to me now because it is the home of an elegant and beautiful roof lantern.