Gain an extra room and a huge amount free space with our Loft Guide.
Upgrading the loft space in my home was one of the best investments I have made in a long time. Many homeowners forget about the added space and value that comes with the high pitch of their roof and with some insulation and loft ladders, a loft conversions is fairly easy. If you are like me, the master bedroom never comes with enough space or privacy from the kids. Once we decided to turn our loft space into a master bedroom, my dream became a reality. Not only was I able to create a retreat away from the stress of the rest of the family, I also added a master bathroom. I thought I was in heaven.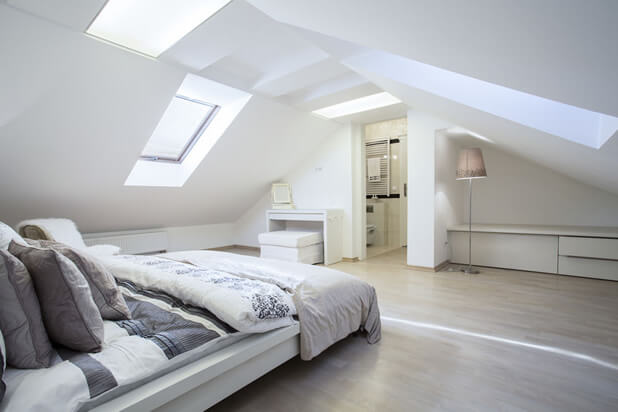 Now for the business side of this conversion. You may not realize that there are loft insulation grants available from many government agencies who are trying to encourage people to become energy efficient. You could save hundreds of dollars on your heating and cooling bills by filling in the wall cavities in your loft space. Since the roof is the area that is most exposed to the elements, it is not surprising that insulation could make such a dramatic difference. Even if you are not able to find loft insulation grants in your area, you may be able to find other discounts to make this conversion worthwhile.
No longer do loft ladders need to be ugly devices that you are afraid to touch, let alone climb. Recent technology has created loft ladders that are beautiful and look like a piece of furniture in a room. Many modern condos and apartments include these ladders as part of the everyday décor. If you are worried about being able to climb a ladder, there are options available that give you handrails and other added security. I found it fun to climb up my ladder into the loft – reminded me of my childhood days climbing into my tree house. There is also an added sense of romance when you climb into a master bedroom loft. If you have been looking for a little adventure to spice up your love life – you will be amazed how the change of scenery can be a romantic getaway.
Of course loft conversions do not just have to be for your master bedroom. Homeowners with teenage children may choose to create a game room in the loft to keep track of where the kids are. You may also just need a little extra place for storage or even a hobby room for scrapbooking or sewing. The number of different types of loft conversions is amazing. Let your imagination go wild and come up with a unique use of the space.
You may wonder what the added benefits are to creating a new room or space in your loft. Besides the savings in electric and heating and the privacy or storage, you are creating more square footage to your home. If you add a closet to the master bedroom loft, you can increase the number of bedrooms you list when selling your home. Depending on your neighborhood, this can add thousands of dollars of equity to your home. As long as the room is insulated well and there is plenty of room to walk around, you can increase the amount of living space in the home. People looking to buy homes in family neighborhoods will start drooling when they hear about a "bonus" room or a master bedroom suite that is located away from the kids bedrooms. Once you have created a new loft space in your home – you will wonder why you waited so long.
If I have convinced you to check out that unused space under your roof – think about all the possibilities the loft has to offer. You may need to contact a contractor to help you create the space of your dreams and install the insulation in your loft. Once that is complete, you can begin looking for the perfect ladders for your loft that will make it easy to access. You can often find these items online in a variety of different colors and materials. Finally, converting your loft into usable space will give you a sense of accomplishment. You can invite your friends and family members over to see the new space and brag about all of your hard work.